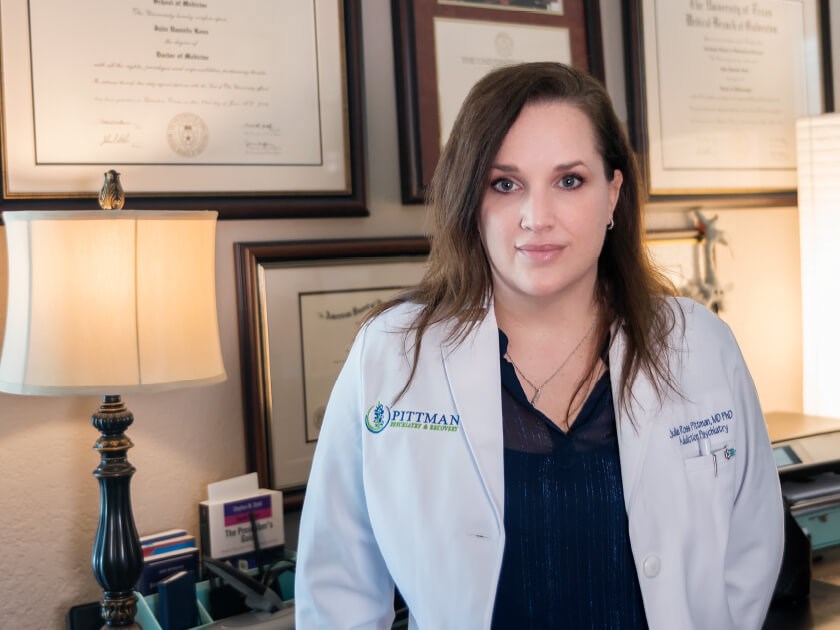 Dr. Julie Pittman is a Harvard-trained, private practice psychiatrist in Arlington, TX offering specialty outpatient psychiatric care, addiction medicine, and weight management to patients in the Dallas – Fort Worth area and throughout Texas. Board certified in psychiatry and addiction psychiatry, Dr. Pittman has extensive expertise in treating a broad range of mental health and substance use disorders. She is the owner of Pittman Psychiatry & Recovery where she works closely with patients ages 18 and up to diagnose, treat, and manage the symptoms of depression, anxiety, and other psychiatric illnesses, addiction, relapse, medical detox, and additional conditions. As a diplomate with the American Board of Obesity Medicine, Dr. Pittman also guides patients in making healthy lifestyle changes based on proper nutrition, exercise, medication, and behavioral therapy. Her down-to-earth nature and authenticity are evident in her honest, grounded approach to care.
Dr. Pittman is a Texas native and was raised in the DFW area. After earning her undergraduate degree at the University of Texas at Austin, Dr. Pittman went on to complete a combined M.D.-Ph.D. dual-degree program at the University of Texas Medical Branch at Galveston with a Ph.D. focused on the behavioral processes involved in drug addiction. She then attended a prestigious, rigorous residency training program at Harvard Medical School in the Massachusetts General Hospital/McLean Hospital Psychiatry Residency training program in Boston where she served as chief resident of addiction in her final year. Following her training at Harvard, Dr. Pittman returned to Texas to complete a fellowship in addiction psychiatry at the University of Texas Southwestern Medical Center in Dallas.
Professional Appointments and Societies
Since completing her formal education and training, Dr. Pittman continues to hold numerous academic appointments as an associate professor and clinical assistant professor. She also serves as the medical director of Nexus Recovery Center in Dallas, TX, a large residential treatment center for women and adolescent girls. Dr. Pittman has contributed to a vast body of research, teaching, and clinical works throughout her education and professional career. She holds certifications in psychiatry and addiction psychiatry from the American Board of Psychiatry and Neurology and is an active member of the following organizations:
American Psychiatric Association
American Academy of Addiction Psychiatrists
American Society of Addiction Medicine
American Medical Association
Obesity Medicine Association
Dallas Obesity Society
Along with her knowledge and expertise in obesity medicine, Dr. Pittman has received training in BODYPUMP and is a certified Les Mills BODYPUMP instructor. She blends these skills with her advanced medical expertise to help patients who are dealing with weight struggles to lose weight and improve their nutrition, physical activity, and general wellness. Dr. Pittman gains inspiration from her own weight loss accomplishments to guide her patients to experience positive changes in their overall health and lives.
Reviews
"Absolutely amazing - I've been trying to get meds right for 6 years and she got them right in 2 months. I love her approach where she wants you on as little dosage as possible and she's very meticulous and helpful. Amazing person. So glad we found her."
Anonymous
Vitals
"Rejuvenated Hope - I recently decided my current Doctor wasn't providing the care and support that I knew I deserved. He would spend less than 2 minutes with me at each appointment and disregarded my needs for guidance. After leaving Dr. Pittman's office for my initial appointment, I felt fantastic. She is truly a gifted and exemplary professional in her field. She is corteous, understanding, empathetic, hilarious but most of all GENUINE. I have a newfound optimism that she has provided. I'm confident in her abilities and guidance, which rejuvenates my hope for the future."
Anonymous
Vitals
"Dr. Julie Ross Pittman - SHE IS AWESOME! SEEING HER FOR ABOUT 7 YEARS. SHE IS THE BEST IF YOU ARE READY TO KICK YOUR ADDICTION FOR OPIODS OR ALCOHOL. DON'T KNOW ABOUT OTHER DRUGS. Love her to pieces."
Anonymous
Vitals
"For treatment of recovery she's fantastic. But also has helped me address other areas in my life that need tuning. Very understanding and is the most compassionate psychiatrist I've ever met. She is extremely smart and is up to date on research and pharmacology. "
C.S.
Healthgrades
"She's awesome. Knows her stuff. So kind & understanding. The best psychiatrist I've ever had."
J.C.
Healthgrades
Related Post